September 15, 2023
The African Women's HIV Prevention Community Accountability Board (AWCAB) launched its HIV Prevention Choice Manifesto in Kampala, Uganda on September 8, 2023. This document, and the advocacy behind its development and release, marks a historic milestone in the power of community-led leadership and prioritization of choice in HIV prevention.
"The toolbox for HIV prevention products is still falling short. More options are needed to suit everyone at different stages of their lives including an effective, accessible, and safe HIV vaccine if we want to see an end to the epidemic". – Joyce Ng'ang'a, WACI Health, Accountability Board Member and Communications Lead
The AWCAB is a coalition of women and girls living and working in Africa who are united in calling for continued political and financial support for more choice in HIV prevention through the HIV Prevention Choice Manifesto. This comes at a time when political will and financial investment are critical to deliver new prevention options such as CAB for PrEP and the dapivirine vaginal ring to meet the needs of women and girls in Africa. In 2023, over four decades in the epidemic, a vast array of biomedical tools to prevent HIV acquisition exist, but these tools are only effective in their purpose if there is universal access, if communities know they exist and are able to choose from all the available options. The manifesto serves as a declaration of what could happen if African women and girls not only had a seat at the table, but led the response and advocacy efforts that shape healthcare for HIV prevention.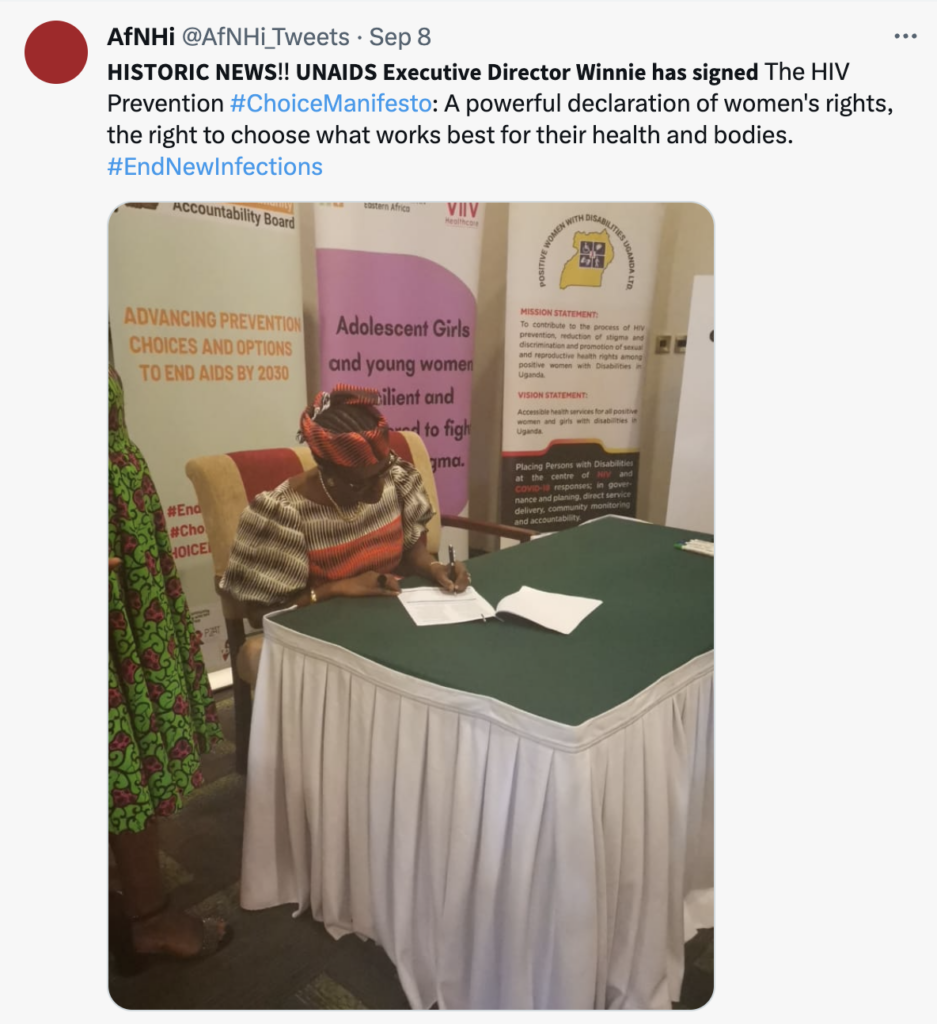 "We have come a long way in the fight to secure choice in HIV prevention for women and girls. We are at a watershed moment to ensure we close the gap for new infections among women and girls. The launch of the Choice Manifesto is the beginning of the work ahead of us as we call on key players to sign onto the manifesto and become part of the change." – Yvette Raphael, Advocacy for Prevention of HIV and AIDS (APHA), Accountability Board co-chair
Most notable was the presence of UNAIDS Executive Director, Winnie Byanyima, who delivered the keynote address and publicly endorsed and signed the Manifesto. Key stakeholders in HIV prevention participated in the launch and affirmed their commitments to choice. This included leadership from UNICEF, UN WOMEN, ViiV, PEPFAR, USAID, Global Fund, Ministry of Health, Uganda, Population Council/ IPM, Aidsfonds, FHI 360 and other civil society organizations. The commitments leadership and key stakeholders signed were focused on elevating national and global dialogue, ensuring resources to prevention options were accessible and sustainable, and bolstering support for local manufacturing of prevention products. Following the launch of the Manifesto, UNAIDS released a feature story on its website HIV Prevention Choice Manifesto for Women and Girls in Africa launched, highlighting the commitment to choice.
Explore resources, tools, and takeaways from the launch including the full HIV Prevention Choice Manifesto.
"The Choice Manifesto is an important and timely advocacy tool. It will help advocates lobby for resources and political will towards making HIV prevention options available for women and girls in Africa. We need commitment and actions from all stakeholders including funders and governments towards CHOICE-based HIV Prevention Programming". – Grace Kumwenda, AVAC, Accountability Board Member
AVAC stands in solidarity with the Accountability Board, and congratulates the group on this major advocacy win! AVAC reaffirms its ongoing commitment to support the Accountability Board as part of the Coalition to Accelerate and Support Prevention Research (CASPR) and to champion the cause of ensuring choice in program implementation, access to and procurement of prevention options; and to advocating that the prevention agenda is shaped by women and girls who seek and want these essential tools.
"We are not asking for much! Let us stop being comfortable with shameful statistics of alarming new HIV infections among adolescent women and girls and start providing options for HIV prevention that meet their needs. Their lives matter!" – Lillian Mworeko, International Community of Women living with HIV Eastern Africa (ICWEA), Accountability Board co-chair
As advocates continue to track and translate HIV prevention tools on the horizon, including already existing and revolutionary long-acting medications, it is important to listen to those who are leading the fight for equity and center choice in all of our implementation efforts.
For more information on the Manifesto, please reach out to Yvette Raphael (yvette@apha.org.za), Lillian Mworeko (lmworeko@icwea.org), or Joyce Ng'ang'a (joyce@wacihealth.org).