The HIV cure field is undergoing a period of robust scientific investigation. Cure-focused advocacy is essential to ensure the pipeline of interventions and discoveries reflect the needs, priorities and experiences of the diverse populations that are affected by HIV.
CureROAR is part of AVAC's larger program of cure initiatives under our REACH, PAVE and I4C Collaboratories. CureROAR supports a cadre of advocates to gain knowledge in the science and process of cure research, and to develop an advocacy agenda to ethically advance cure research.
Cassie Armea-Warren
USA
Cassie Armea-Warren is a white, gender-non-conforming, pro-ho, highly-organized prison abolitionist with country roots and a harm reduction heart. They have extensive experience in youth work, innovative program design, LGBTQ+ healthcare, transformative justice, and community engagement strategies. Cassie has a passion for building capacity and supporting the power and vision of trans people, people of color, sex workers and all people impacted by injustices and oppression. Cassie has worked in community organizing spaces and public health for over a decade, specializing in creating affirming and equitable healthcare for transgender and gender nonconfirming young people experiencing homelessness. Currently, his focus is on enhancing the involvement of LGBTQ+ people in health research at Stanford University's PRIDEnet team. Cassie is the Mapa of a joyous, independent and book-loving toddler. She thoroughly enjoys checking things off lists, curating spaces for people to gather and heal, and game nights. Cassie is also a member of PxROAR US.
Pronouns: they, she and he – use them all, switch them up
---
Lilian Benjamin Mwakyosi M.D.
Tanzania
Dr. Lilian is the Executive Director of DARE Organization, a local NGO advancing community engagement and ownership in health responses (HIV and SRH). She's a 2018 AVAC Fellow, and a community advocate, she has served as a peer educator and counselor with the national health hotline of the Tanzania Youth Alliance (TAYOA), providing information, counseling and referral services to clients. Lilian also served as a Differentiated Care Youth Champion, advocating for different models of ART delivery for young people living with HIV in Tanzania. She strongly believes in the meaningful engagement and leadership of young people to bring out positive change in preventing new HIV infections and ultimately ending AIDS. Lilian attained her Medical Degree in 2017 at Hubert Kairuki Memorial University based in Dar es Salaam, Tanzania.
---
Charles Brown
Uganda
Charles is a 2014 AVAC Fellow and the Executive Director of Preventive Care International, an NGO he founded after his Fellow's project. Charles has worked on various PrEP projects at the Infectious Diseases Institute. He is a member of the PrEP TWG at the ministry of health and a Ministry of Health certified PrEP trainer. Charles has extensive experience working with HIV clinical trials, including Partners PrEP study and the Partners Demonstration Project. His work has focused on HIV counseling and testing, adherence support, and community education for serodiscordant couples and key populations.
---
Martha Sichone Cameron
USA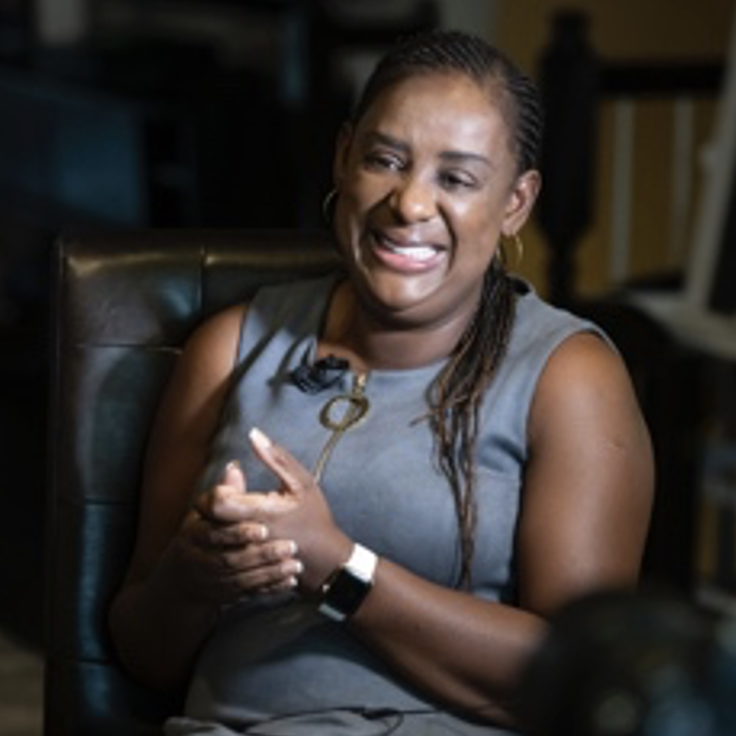 Martha is originally from Zambia, where she was born and raised. She is the Executive Director for the International Community of Women Living with HIV (ICW) North America, and Special Projects Coordinator for the Positive Womens Network. Other past poitions include Director of Prevention for Women's Collective (TWC), a leading community health and human service agency in Washington, DC. Martha is actively involved in various HIV policy, advocacy and research forums for the US PLWHA Caucus and DC Center for AIDS Research. She has Bachelor's in Education (English/French) and a Master's in Public Health.
---
Caitlin Conyngham
USA
As the Senior Manager, Adherence Launch at OraSure Technologies, my goal is to ensure that PrEP works for the people who need it, and that healthcare providers can support their patients by working bring novel PrEP adherence diagnostics to market. Prior to my role with OraSure, I was the Ending the HIV Epidemic Advisor for the City of Philadelphia's Department of Public Health. At the Department, I developed local strategies to reduce new HIV infections across the care continuum, managed a project that examined missed opportunities in Philadelphia's healthcare system to prevent HIV, and participated in local HIV outbreak planning and response. Before my work in local government, I worked as the Director of PrEP Programs for a large local federally qualified health center. I developed programs to bring PrEP to people who are often marginalized by healthcare systems. Across all my work, I believe it is critical to use compassion, passion and data to drive the best outcomes.
When I am not working, you can find me in Philadelphia, USA spending time with my spouse and our menagerie of animals (1 dog and 3 cats). I love to hike, spend time cooking and baking, and visit nearby beaches in New Jersey.
---
Mandisa Dukashe
South Africa
Mandisa is a clinician and public health expert with more than 16 years experience in the HIV field managing different national HIV projects. She leads advocacy to popularize and formalize the uptake of U=U to promote treatment, adherence and viral load suppression as a way to destigmatize people living with HIV, and she led a campaign in South Africa to integrate treatment as prevention into policy and practice across the country. She is a U=U Global Advisory Board member and co-founder of UequalsU Africa Forum, a peer led movement that seeks to promote the scale up of U=U across Africa. The Forum supports U=U Ambassadors across 8 Africa countries, operating under the auspices of PreventionAccess.org.
Mandisa has been living openly with HIV for more than 20 years, and is also a founder of HIV Survivors and Partners Network. She is a 2020 AVAC Fellow, and a member of the community advisory board (CAB) for the PAVE Collaboratory, an initiative at the Martin Delaney Collaboratories for HIV Cure Research.
---
Tanya Bender Henderson
USA
Tanya Bender Henderson, PhD, MBA, serves as the Project Director of the Southeast Diabetes Faith Initiative (SDFI), a program of the Balm in Gilead, an organization that builds and strengthens the capacity of faith communities in the United States and Internationally to deliver programs and services that contribute to the elimination of health disparities among people of the Black Diaspora. Dr. Henderson has more than 30 years of public health experience, including nearly 20 years working with the faith community in HIV/AIDS education. She also serves as adjunct faculty in sexual health for Antiochi University of Seattle and University of Maryland School of Social Work. She has developed a sexual health project called Sex.U.ology, to help normalize women's conversations about sex toward positive health outcomes.
Tanya is a fellow of the Black AIDS Institute African American HIV University (AAHU) Science and Treatment College (in partnership with the University of California at Los Angeles), and Community Mobilization College.
---
Nichole Little
USA
Nichole Little is the Founder and Executive Director at Sexual Health Education Research & Outreach (SHERO), a community sexual health and personal development network located in Oakland, California. As a member of AVAC's PxROAR US, Nichole incorporates biomedical HIV prevention information as well as information related to the clinical trials process into HIV 101 trainings and workshops throughout the Bay Area. SHERO's philosophy is to train the trainers (popular opinion leaders), mobilize and address the WHOLE COMMUNITY including Faith-based, LGBT, collegiate, social and heterosexual women's communities.
---
Elina Mwasinga
Malawi
Elina Mwasinga is an activist focused on HIV/AIDS and Sexual Reproductive Health & Rights (SRHR), with five years' experience in the field. She's a 2022 trained leader of AIDS and Rights Alliance for Southern Africa (ARASA) Regional Training & Leadership Programme. She has been working with Coalition of Women and Girls Living With HIV/AIDS (COWLHA) by coordinating and implementing HIV, SRHR and gender related projects. She is also the 2018 to 2019 Malawi Country Coordinator volunteer for International Youth Alliance for Family Planning (IYAFP) where she worked and led a group of young people across Malawi on SRHR.
She has been actively involved in the Lighthouse Tiwale Adolescent Services, at the Lighthouse, a center of excellence in the fight against HIV in Lilongwe, Malawi. She assists in mentoring, coaching, counseling, and advising HIV-positive youth at the Lighthouse and beyond, and has helped many youths to accept their HIV status and adhere to ARVs. Elina is a founder of Chino arts, an enterprise that uses art and fashion for health and social change. She also has four years of experience working on menstrual hygiene management through providing skills on re-usable pad making, period positive talks, and distribution.
---
Josephine Nabukenya
Uganda
I am Josephine Nabukenya, Founder of the Miles of Smiles Foundation in Uganda and a published author Beyond your status. Thriving in life in spite of HIV. Over the years, I have been passionate about the provision of psycho-social support to children, adolescents and young people, both those infected or affected by HIV and AIDS. This passion has enabled me to support psycho-social activities in South Western Uganda and advocate for better treatment options and psychosocial support services on both national and international platforms under the Elizabeth Glaser Pediatric AIDS Foundation. I am also a national trainer of the Young Adolescent Peer Support (YAPS) model in Uganda supporting the Ministry of Health to design, plan, implement and evaluate a standardized peer-led model for providing services, with lessons learnt from the Community Adolescent Treatment Supporter (CATS) model in Zimbabwe and other key implementing partners involved in service provision in the country.
Recently, I am running an information series about HIV Cure (#series of Jojo) for an audience of adolescents and young people to help them understand what is happening in cure research. This series will support young participants to dismantle misinformation in our communities and also work with HIV cure scientists to simplify the cure terms used for a lay audience.
I hold a Bachelor's degree in social sciences from Makerere University and have attended life changing courses such as Leading Change from the University of Cambridge as a Queen's Young Leader where my work was also awarded by Her Majesty the Queen of England for the impact created in the world. Lastly, I am privileged to serve on two great international platforms: the International AIDS Society Governing Council as the first African young person under 30, and the Elizabeth Glaser Pediatric AIDS Foundation Board of Directors as the first African woman living with HIV.
Videos
---
Shakira Namwanje
Uganda
Shakirah is a 2019 AVAC Fellow and the Policy Research and Advocacy Officer at the Uganda Network of AIDS Service Organizations (UNASO). She is an advocate for HIV Research and positive living. A survivor of sexual abuse and a young woman living with HIV, she is a women's health activist who uses music, dance and drama to educate and engage young people in health issues. Shakirah is also a counselor by profession. She is an alumni fellow for the Advocacy for Cure Academy and the runner Up for 2021 Omololu Falobi Award for Excellence in HIV Prevention Research Community Advocacy.
---
Moses Supercharger
Uganda
Moses is a 2017 AVAC Fellow, a musician, radio and TV presenter, and an HIV advocate who has lived with HIV since 1994. He has drawn courage from the early days of his diagnosis to propel himself to the global stage as a formidable HIV prevention, treatment and cure research community advocate. He currently chairs the Joint Clinical Research Centre's Community Advisory Board and represents the African community on the ACTG, INSIGHT and AIGHD boards. He is currently training new prevention and cure research advocates and is also fundraising and constructing an HIV treatment and adherence center in Uganda.