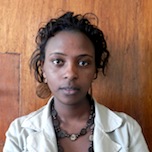 At the time of her Fellowship project, Josephine was a program officer at HDI, where she was in charge of advocacy and policy monitoring. She has been involved in various advocacy campaigns for the decriminalization of LGBTI people, sex workers and abortion and has advocated for health and development for potter communities. Prior to her Fellowship year, she coordinated the SHARE project, which aims to empower youths with knowledge about sexual and reproductive health.
Fellowship Focus
Josephine helped create a favorable environment for the rollout of PrEP among the most at-risk populations. She worked with policy makers to include PrEP in the national guidelines. She built a civil society coalition to facilitate demands to policy makers and other key stakeholders. In addition to PrEP, Josephine advocated for treatment as prevention in the country's national strategic plan and monitored VMMC rollout.
In Their Own Words
For those working with the key populations, it is better to empower them to speak on their own. It gives an added value and augments the policy and decision-makers to act accordingly.
Get in Touch
If you have any questions about the Fellows Program, or would like to reach out to a Fellow (current or alumni), e-mail us at fellows@avac.org.