Advancing Choice in HIV Prevention
In recent weeks, important new resources for advancing choice in HIV prevention have been announced. Don't miss these highlights from the field. They point to an HIV response in transition, and help to define the role advocacy must play. As policy, practice and budgets strive to keep up with advances in research, advocacy around choice becomes a cross-cutting priority—so that the promise of new options in HIV prevention won't be squandered in siloed programs, or by poorly-planned supply chains, or because of disconnected policy decisions. People have diverse needs and face complex challenges; ending HIV depends on finding the option that works best for each individual.
The Choice Manifesto


The African Women's HIV Prevention Community Accounability Board (AWPCAB) launched the HIV Prevention Choice Manifesto, calling for increased political and financial support to ensure every proven method of HIV prevention is integrated into the HIV response, so that all women who need prevention will have access to the options that will make prevention possible for them. At the launch event in Kampala, UNAIDS Executive Director Winnie Byanyima gave a keynote address in support of the Manifesto's call for all stakeholders to commit to the budgets and strategies that will make choice possible.
"I congratulate you for the HIV Prevention Choice Manifesto. It's about pushing everyone towards people-centered, women-centered and women-led approaches to HIV prevention. You have fought with your lives to get here. You are fearless feminists. Women must lead for themselves." – Winnie Byanyima, UNAIDS Executive Director
Learn more about the HIV Prevention Choice Manifesto and other advocacy resources for choice in our latest AVAC blog, Reclaiming Choice: The launch of the HIV Prevention Choice Manifesto and what that means.
The Dual Prevention Pill (DPP)
The DPP Consortium created a multiyear strategy to frame priorities and next steps in the development and delivery of the dual prevention pill (DPP), which is being developed to prevent HIV and unintended pregnancy. This multipurpose prevention technology (MPT) combines oral PrEP with an oral contraceptive. The updated strategy consolidates two years of progress toward preparing the field for new MPTs. The strategy addresses additions to the MPT pipeline, the potential role of the private sector in delivering a future DPP, recommendations for provider counseling on the use of the DPP, market research on potential DPP users, the latest analysis on cost, and more.
Stay tuned for more resources and updates to come on the DPP, the Choice Manifesto, and tools for connecting choice to HIV prevention, ending the epidemic and the role of choice in global health equity in HIV, and beyond.
DPP Audience & Provider Insights for the DPP Research and Marketing Plan: Phase 1 Research Findings
This report, by M&C Saatchi World Services, AVAC, and partners, highlights learnings from Human-Centered Design Research undertaken in 2022 to understand the values and motivations of potential users and influencers of the Dual Prevention Pill (DPP) in Kenya, South Africa, and Zimbabwe.
Frequently Asked Questions About the Dual Prevention Pill (DPP)
This factsheet provides answers to the most frequently asked questions about the Dual Prevention Pill (DPP), including what it is, who might use it, and how it can be rolled out.
Dual Prevention Pill: Market Preparation and Introduction Strategy
This strategy, updated in August 2023, is intended for donors, governments, implementing partners and civil society to inform priorities and planning for DPP rollout. The strategy describes activities required to build a cohesive body of evidence and recommends an approach to DPP introduction to focus efforts. Where possible, activities will be embedded into existing programs to consolidate and leverage resources.
Reclaiming Choice: The launch of the HIV Prevention Choice Manifesto and what that means
The African Women's HIV Prevention Community Accountability Board (AWCAB) launched its HIV Prevention Choice Manifesto in Kampala, Uganda on September 8, 2023. This document, and the advocacy behind its development and release, marks a historic milestone in the power of community-led leadership and prioritization of choice in HIV prevention.
"The toolbox for HIV prevention products is still falling short. More options are needed to suit everyone at different stages of their lives including an effective, accessible, and safe HIV vaccine if we want to see an end to the epidemic". – Joyce Ng'ang'a, WACI Health, Accountability Board Member and Communications Lead
The AWCAB is a coalition of women and girls living and working in Africa who are united in calling for continued political and financial support for more choice in HIV prevention through the HIV Prevention Choice Manifesto. This comes at a time when political will and financial investment are critical to deliver new prevention options such as CAB for PrEP and the dapivirine vaginal ring to meet the needs of women and girls in Africa. In 2023, over four decades in the epidemic, a vast array of biomedical tools to prevent HIV acquisition exist, but these tools are only effective in their purpose if there is universal access, if communities know they exist and are able to choose from all the available options. The manifesto serves as a declaration of what could happen if African women and girls not only had a seat at the table, but led the response and advocacy efforts that shape healthcare for HIV prevention.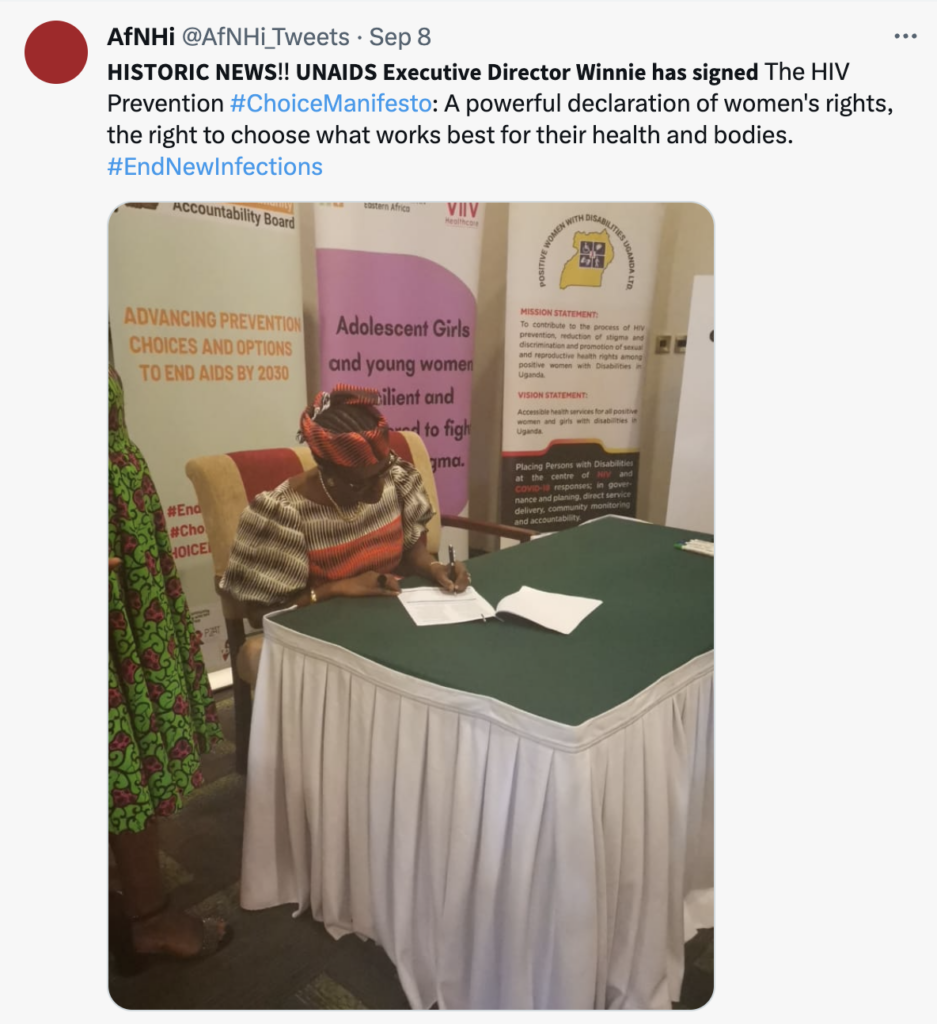 "We have come a long way in the fight to secure choice in HIV prevention for women and girls. We are at a watershed moment to ensure we close the gap for new infections among women and girls. The launch of the Choice Manifesto is the beginning of the work ahead of us as we call on key players to sign onto the manifesto and become part of the change." – Yvette Raphael, Advocacy for Prevention of HIV and AIDS (APHA), Accountability Board co-chair
Most notable was the presence of UNAIDS Executive Director, Winnie Byanyima, who delivered the keynote address and publicly endorsed and signed the Manifesto. Key stakeholders in HIV prevention participated in the launch and affirmed their commitments to choice. This included leadership from UNICEF, UN WOMEN, ViiV, PEPFAR, USAID, Global Fund, Ministry of Health, Uganda, Population Council/ IPM, Aidsfonds, FHI 360 and other civil society organizations. The commitments leadership and key stakeholders signed were focused on elevating national and global dialogue, ensuring resources to prevention options were accessible and sustainable, and bolstering support for local manufacturing of prevention products. Following the launch of the Manifesto, UNAIDS released a feature story on its website HIV Prevention Choice Manifesto for Women and Girls in Africa launched, highlighting the commitment to choice.
Explore resources, tools, and takeaways from the launch including the full HIV Prevention Choice Manifesto.
"The Choice Manifesto is an important and timely advocacy tool. It will help advocates lobby for resources and political will towards making HIV prevention options available for women and girls in Africa. We need commitment and actions from all stakeholders including funders and governments towards CHOICE-based HIV Prevention Programming". – Grace Kumwenda, AVAC, Accountability Board Member
AVAC stands in solidarity with the Accountability Board, and congratulates the group on this major advocacy win! AVAC reaffirms its ongoing commitment to support the Accountability Board as part of the Coalition to Accelerate and Support Prevention Research (CASPR) and to champion the cause of ensuring choice in program implementation, access to and procurement of prevention options; and to advocating that the prevention agenda is shaped by women and girls who seek and want these essential tools.
"We are not asking for much! Let us stop being comfortable with shameful statistics of alarming new HIV infections among adolescent women and girls and start providing options for HIV prevention that meet their needs. Their lives matter!" – Lillian Mworeko, International Community of Women living with HIV Eastern Africa (ICWEA), Accountability Board co-chair
As advocates continue to track and translate HIV prevention tools on the horizon, including already existing and revolutionary long-acting medications, it is important to listen to those who are leading the fight for equity and center choice in all of our implementation efforts.
For more information on the Manifesto, please reach out to Yvette Raphael (yvette@apha.org.za), Lillian Mworeko (lmworeko@icwea.org), or Joyce Ng'ang'a (joyce@wacihealth.org).
PrEP That Booty: The latest on rectal microbicide research for the back door
Thursday, June 29 at 9:00 AM–10:30AM ET
Most of what we hear about regarding the HIV prevention pipeline is about long-acting, longer-acting, and even longer-acting products that deliver drug throughout the body and require a trained clinician to deliver. However, these attributes are not desirable to many folks, and communities want a range of choices. Researchers and advocates for years have been working on HIV prevention products specifically for the back door (rectum) to provide protection during anal intercourse. These products are user-controlled, non-systemic (the drug stays in the booty and only the booty), and are short-acting, so you don't have to commit to having a prevention drug in your body for a year or longer. Join us for a dynamic discussion regarding the latest research on Booty PrEP – aka rectal microbicides – with our multi-talented panel.
Speakers include: Jonathan Baker, PA, Laser Surgery Care, Dr. Craig Hendrix, Johns Hopkins, Juan Michael Porter II, The Body, and Dr. Sharon Riddler, University of Pittsburgh
New Publications On The Dual Prevention Pill And The MPT Landscape
The research journal Frontiers in Reproductive Health has published a special issue on multipurpose prevention technologies (MPTs) with ten articles exploring the latest thinking on MPT development from "bench to bedside." Among them, an article co-authored by AVAC's Kate Segal and partners in our Dual Prevention Pill (DPP) Consortium, Equipping providers to offer novel MPTs: Developing counseling messages for the Dual Prevention Pill in clinical studies and beyond, reports on recommendations for counseling users on the DPP.
Another article, co-authored by CHAI and other members of the DPP Consortium, Cost-effectiveness of the dual prevention pill for contraception and HIV pre-exposure prophylaxis, discusses the results of a modeling study that identified the conditions for the DPP to be cost effective.
These two articles, and the other articles in the special issue, Multipurpose Prevention Technologies for HIV, STIs & Pregnancies, provide updates on new options being tested, user preference research, strategies for product introduction, and elaborate on where the field needs to go to bring an array of new MPTs to market.
This comes in the midst of growing awareness that HIV, sexually transmitted infections (STIs), and reproductive health are inextricably linked. Integrating services is essential to address the pernicious effects of STIs, prevent HIV, and to offer people of childbearing age interventions that fit into their lives. MPT research and development is a central component to offering integrated services. External and internal condoms are the only MPTs currently on the market, but a growing body of evidence makes clear that people all over the world want and need choices to protect against pregnancy and other health threats, such as STIs and HIV. A variety of MPT strategies are in development now, including vaginal rings, pills, micro-array patches, injectables, implants, rectal and vaginal fast-dissolving inserts, and rectal and vaginal gels.
See AVAC.org's dedicated page on MPTs to learn more, or check out our recent The Choice Agenda webinar on all things MPTs and our MPT factsheet.
Avac Event
IAS (International AIDS Society) 2023
The 12th annual conference of the International AIDS Society (IAS) on HIV science takes place July 23–26 in Brisbane, Australia, and virtually. This year's conference will offer the latest on vaccine and cure science, research updates on broadly neutralizing antibodies, important discussions on trial design in the era of PrEP, the potential of community-led models of care and the importance of integrating services for HIV and sexual and reproductive health (SRH). AVAC and partners will be there! Read on for an overview.
Just ahead of the conference, UNAIDS released their annual state of the epidemic report, The Path that Ends AIDS. The report charts a path that can end AIDS, and documents important progress, but challenges remain. Among them, global resources for HIV are marking another year of decline. With anti-LGTBQIA+ legal actions increasing in the US and in several African countries and reduced resources, efforts to end the epidemic will fail. See AVAC's new graphic on the issue.
IAS Resources
Use AVAC's Roadmap to find sessions where prevention, pandemic preparedness and the larger issues of global health equity are in the spotlight. You can download it as a sortable spreadsheet or PDF.
Satellites, Sessions and Panels Featuring AVAC and Partners
All times listed are local in Brisbane, Australia. Click for a time zone converter.
Sunday, July 23
Tuesday, July 25
Wednesday, July 26
Poster Presentations
No Data No More: A tool to end the exclusion of trans and gender-diverse people in HIV research
Raising New Voices in HIV Cure Research: A review of an advocacy-for-cure academy and grant program
The Value of Measuring Outcomes of HIV Advocacy: Utilising a novel and participatory approach for advocacy evaluation
HIV Prevention Research & Development Investments 2001-2021: Shifting investment priorities fund innovation in a challenging global health landscape
Revolution of Transgender Health Programming: The role of transgender activists in Health programming for Malawi
While many will be gathering in Australia for the IAS conference, the 27th International Society for Sexually Transmitted Diseases Research (ISSTDR)is happening in Chicago at the same time – and AVAC will be there, too. Stay tuned for an update later this week for AVAC's STI Roadmap and dedicated STI conference page. Advocates, implementers and researchers in both fields have much work to do together.
HIV Prevention Plus Plus: Developing Options that Meet the Full Range of our Sexual and Reproductive Health Needs
Tuesday, April 25 at 9:00 AM–10:30AM ET
Despite a dynamic research and development (R&D) pipeline for prevention products, male and female condoms remain the only multi-purpose prevention technologies (MPTs) currently available. Yet MPTs are an integral part of the HIV prevention advocacy agenda. For decades, advocates have pushed for products to be developed that simultaneously prevent HIV, other sexually transmitted infections (STIs) and/or pregnancy.
With a growing number of PrEP options already, what will it take to bring a new MPT to market? A Dual Prevention Pill (DPP – https://www.prepwatch.org/products/dual-prevention-pill/) that prevents both HIV and pregnancy could be just two years away. Looking further upstream, there are over 25 other MPTs in the pipeline (https://www.prepwatch.org/research-pipeline/), including vaginal rings, which would follow in the footsteps of the dapivirine vaginal ring recommended by WHO and recently approved in several countries.
Within this fast-evolving HIV prevention landscape, work is already underway to build a platform to introduce the DPP, which could speed up the rollout of other MPTs. Join us to hear what we've learned so far on R&D, marketing, counseling and delivery for MPTs – and to discuss what we can do now to prepare prevention markets to include new MPT options.
Featured Speakers:
Ruth Akulu, ICWEA, AVAC fellow
Barbara Friedland, Population Council
Gregorio Millet, amfAR
Dr. Thesla Palanee-Phillips, Wits RHI
Danielle Resar, Clinton Health Access Initiative
Co-moderators: Wawira Nyagah, AVAC Kate Segal, AVAC